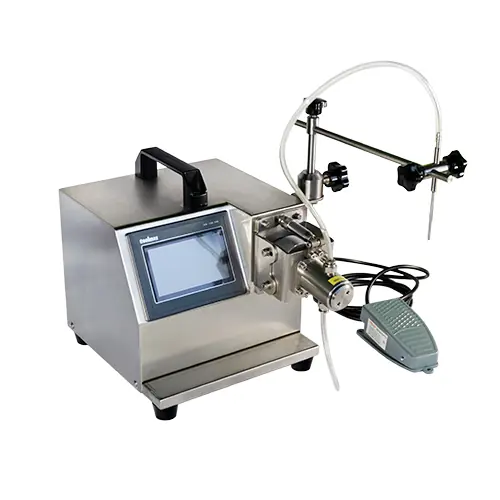 X36-1 Precision Liquid Filling Machine
Manufactured by SZHX Machine
The X36-1 Precision Liquid Filling Machine is designed for precision liquid filling. It equips valveless ceramic pump and provide high precision liquid filling.
Product Feature
Pharmaceutical, food, cosmetic industry's highest hygiene and health standards.
Inert chemical stability, acid-base corrosion and high temperature resistance.
Hard, abrasion resistant, particle release is extremely small, long service life.
Dense material, water absorption as low as zero; very high surface finish, minimal friction; therefore minimal residual materials.
Thermal expansion coefficient is small, piston clearance fit more, filling accuracy can be achieved online cleaning and sterilization.
Scope of Application
Laboratories, universities, pharmaceutical factories, hospitals, cosmetics industry.
Widely applied to precision quantitative filling of industries such as medicine, pharmacy, food, chemistry, cosmetics, etc.
Used for precision quantitative filling of liquids such as blood, biological reagent, oral liquid, injection liquid, senior cosmetics, fragrance, fungicide, etc.
Used for precision quantitative filling of all kinds of acid and alkali corrosive liquid.
Technical Parameter
Model
X05-1
X07-1
X10-1
X13-1
X15-1
X22-1
X25-1
X36-1
Power Supply
AC220V 50/60Hz 80W
Material
Plunger, Plump Cavity Sleeve(Alumina Zirconia)
Filling Accuracy
±≤1%
±≤0.5%
±≤0.5%
±≤0.5%
Rpm
0-600
0-500
0-200
0-150
Placement Angle
15°
20°
20°
20°
Throughput Pressure
0.6MPa
0.5MPa
0.5MPa
0.5MPa
Suction Height
4mm (The data measurement of this product uses water as the medium)
Max Throughput(ml/min)
100
180
420
750
870
1200
1800
3600
Throughput/rev(ml/rev)
0.14
0.3
0.7
1.6
2.9
6
12
25
Filling Speed
0-50times/min
Weight
3.5kgs
4.5kgs
8.5kgs
16.5kgs
Size(mm)
300*140*230
325*140*230
390*155*265
490*205*300

---
Contact us
Email to us for catalogue and price list.