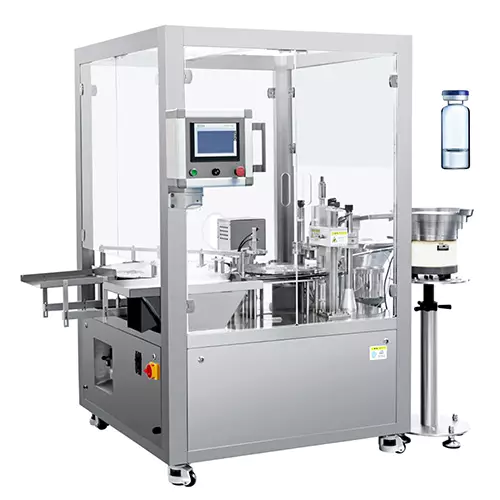 Fully Automatic Vials Filling and Capping Machine Double Station
Manufactured by SZHX Machine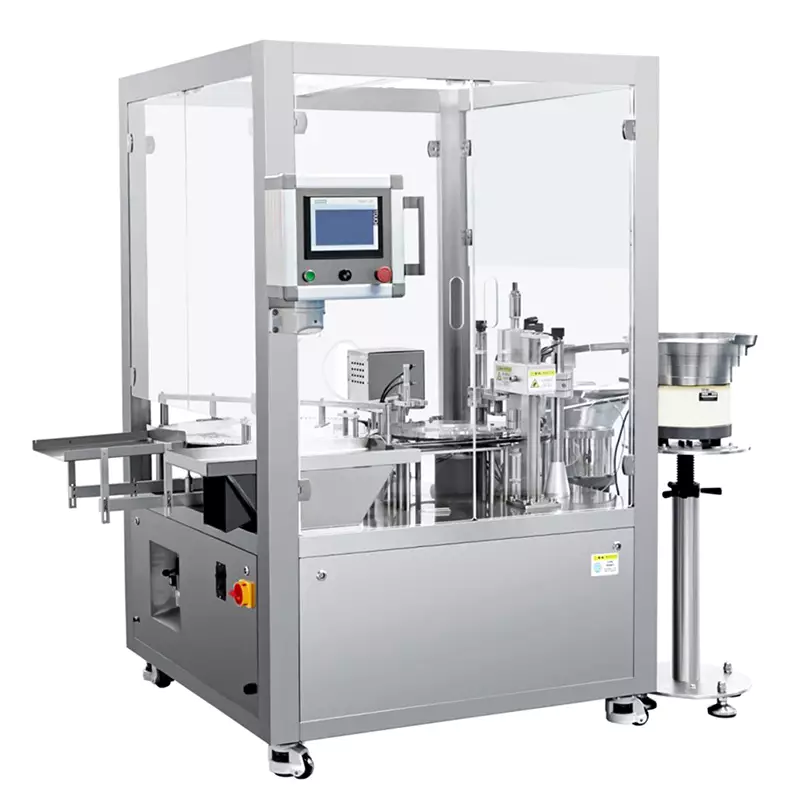 Overview
Rotary Automatic Vials Filling and Capping Machine is the equipment that can be used for automatic filling, cap screwing or cap pressing for vials, essential oil bottles and perfume bottles.
The working process is divided into Bottle Sorting -> Filling -> Stopper Pressing(Set Up LYO rubbers) -> Cap Placing -> Cap Pressing -> Cap Pressing. The machine is characterized by stable production and strong versatility for packaging materials.
Scope of Application
Pharmaceutical medicine liquid vials, small glass bottles filling and capping.
Cosmetic perfume, essential oil liquid filling and capping.
Suitable for large scale production in high speed and low power consumption.
Feature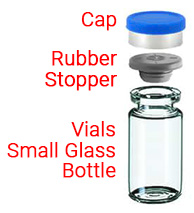 Vials Packaging
Vials, small glass bottles filling precisely. Suitable for 1R to 20R vials.
Capping. Include bottle inside stopper(LYO rubbers) pressing and cap screwing or pressing.
Auto arrange the bottle stoppers and caps to correct direction.
Auto vials bottles feeding with large holder.
The machine is universal for a variety of materials of cap because of high-quality steel sheet that has been quenched and hardened.
The drive of turntable is servo drive which is smaller and lighter than other drives on the market. It can change the orientation freely and has fast speed.
Warning when detecting vials without stopper.
Easily change the height of working station for vials that has different height and the same radius.
The input and output are on the same side, which is convinient for operator.
The whole machine is compact and movable easily.
Dimension
Technical Parameters
Bottle Unscramble – Auto Filling – Auto Stopper Pressing – Stopper Checking – Caps Hanging – Caps Pressing – Outlet
General
Parameter
Model
HX-GX011
Voltage
220V 50HZ (Customizable for 110V 60Hz)
Power
2 kw
Production Speed
40-50 Bottles/min (According to the dimension of bottles)
PS: Automatic stop when there is no stopper. The speed of concave or half plugging will be reduced.
Stopper Installation Type
Pressing
Cap Installation Type
Hanging
Cap Pressing Type
4 Claws Crimping
Outlet Type
The push from turntable
Filling
System
Filling Pump & Nozzle
316L Magnetic Pump + Anti-Dripping Nozzle
Filling Drive
Precision Servo Drive
Shenzhen
Filling Error
0.03-0.1 g
Filling Volume
1-10ml
PS: The filling nozzles are anti-dripping, which keep your working station clean.
Viscosity of Material
lower than or equal to viscosity of oil
Power
800W
Unscramble
System
Conjoined or Split
Conjoined
Motor Power
120W (Speed Adjustable)
Speed of Unscramble
100 bottles/min
Radius of Tray
500 mm
Material of Tray
304 Stainless Steel
Main
Part
Turntable Power
400W
Servo Spliter
DELTA
CN, Taiwan
Electromagnetic Valve
AirTAC
CN, Taiwan
Relay
Honeywell
US
PLC
(Pick one of two) SIEMENS / MITSUBISHI
DE / JP
Touch Screen
SIEMENS
DE
Photoelectric Sensor
KEYENCE
JP
Inverter
(Only equip if ask) Danfoss
DK
Power Supply
(Pick one of two) DELTA / MEANWELL
CN, Taiwan
Air Switch
(Pick one of two) Honeywell / Schneider
US / FR
Switch Button
Honeywell
US
Other
Parameter
Stopper Unscramble Device
1 Set
Frequency
Control
Cap Unscramble Device
1 Set
Dimension
1900 x 1918 x 1167 mm
Weight
330 kg
Rack Material
304 Brushed Surface Stainless Steel
Wheel
FOOT MASTER Wheel
Truntable Material
Anodised Brusher Aluminum Plate
Bracket
304 Stainless Steel Stick
Waranty
Whole machine for 1 year
Part Description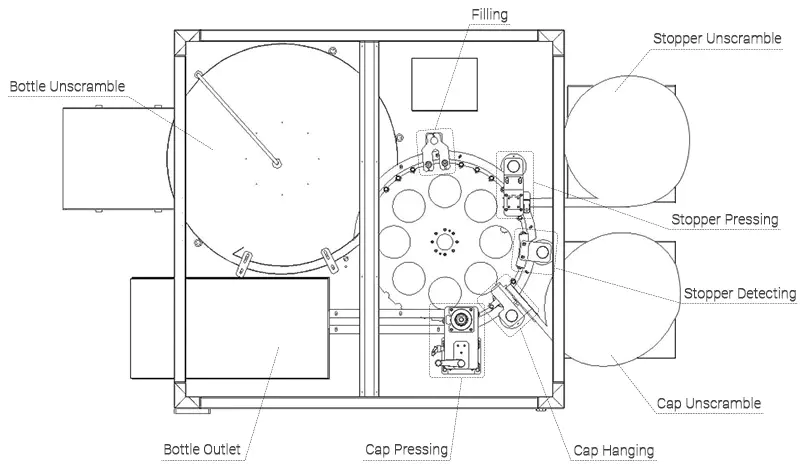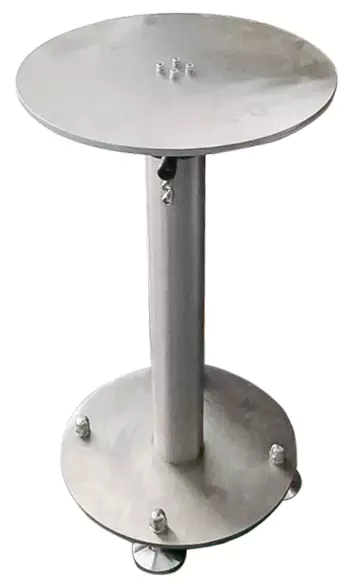 Stainless Steel Bracket
It can bear 38 kg and be adjusted to different height freely without tools.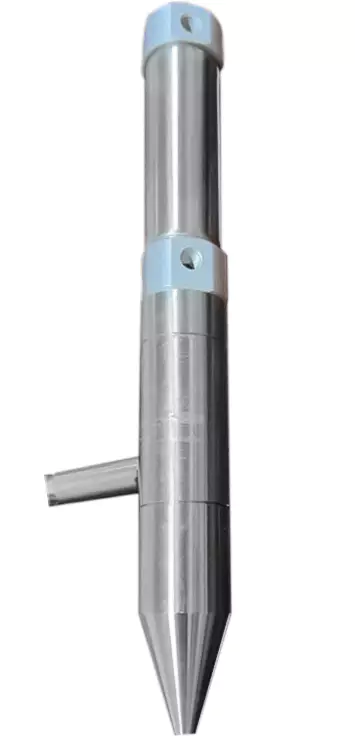 Anti-Dripping Nozzle
It prevent dripping of filled material accidentely.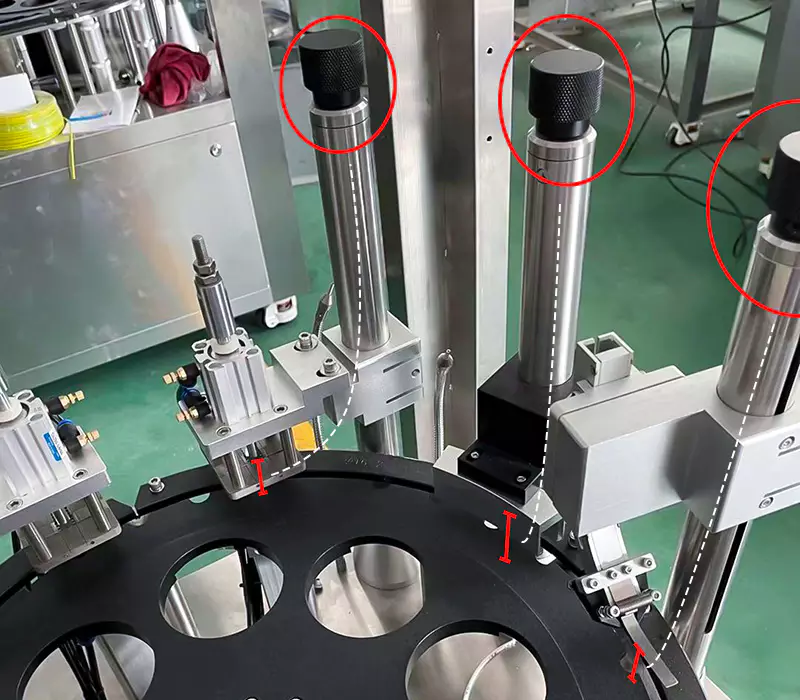 Filling Height Adjustment of Bottles
Can be Easily modified by the height of bottles. Just turn the knob directly without fixed handle.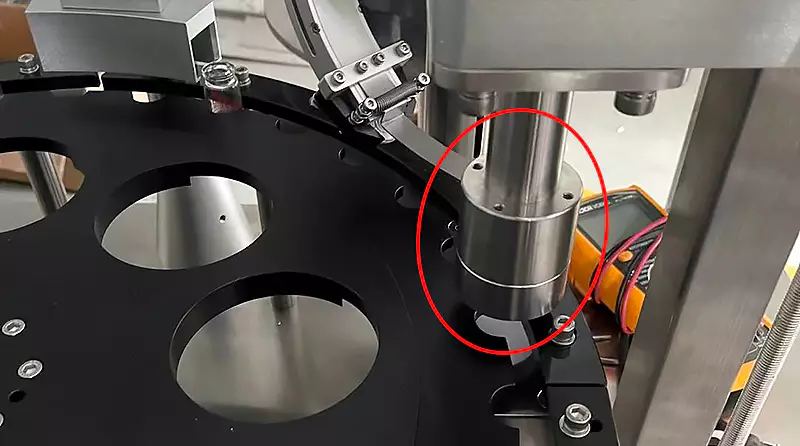 4 Claws Crimping for Cap Pressing
Effectively compatible with the specifications of packaging materials commonly used in the cosmetic and pharmaceutical market.
---
Contact us
Email to us for catalogue and price list.