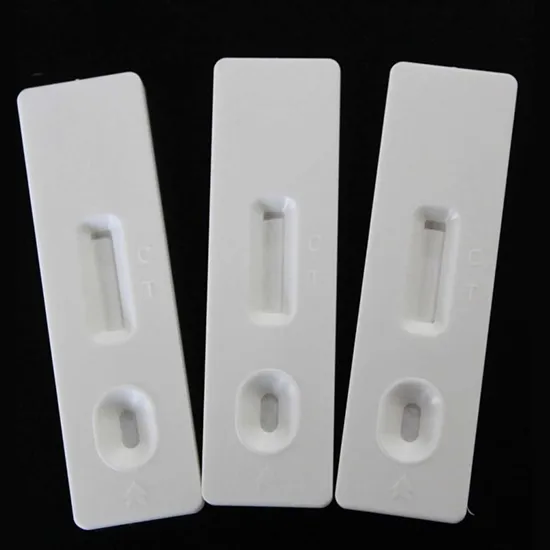 Test Kits Automatic Assembly Packaging Machine
Manufactured by SZHX Machine
Machine Running Video
Products Overview
Test kit automatic assembly machine is designed based on customer's sample. With the specialized mold, the machine can automatically assemble the test kits based on customer's sample into one. The size of test kits can be in 70~120mm range.
Technical Parameters
Produtivity
40~50 sets/min (Depends on operator proficiency)
Applicable Products
Customer's sample that size in 70~120mm
Body Size
Assembly Machine
1320x1250x1350mm
Bagging Machine
2030x700x1350mm
Weight
Assembly Machine
800kg
Bagging Machine
500kg
Power Supply
220V 50Hz
Power
3kW
Air Pressure
Above 0.6MPa
Working Process
Put the bottom cover onto the conveyor. When the electric sensor detects the bottom cover, the machine will clamp it onto the mold.
When the electric sensor detects the bottom cover on the mold, the machine will clamp the test strip that was automatically cutted onto the bottom cover.
When the electric sensor detects the bottom cover with test strip applied, the machine will clamp the top cover onto the bottom cover. If there is a bottom cover without test strip placed, the machine will eject it out directly at the final station for recylce rather than merge it with the top.
Press and fit the top and bottom cover.
Clamp the assembled test kits onto conveyor.
Clamp the assembled test kits onto the mold of bagging machine from conveyor.
Clamp the empty bag onto the mold.
Place desiccant on the conveyor. When electric sensor detect the desiccant, the machine will place it onto mold.
Push the test kits and desiccant from mold into bag.
Heat seal the bag.
Eject out the finish products.
Machine Parts Call Out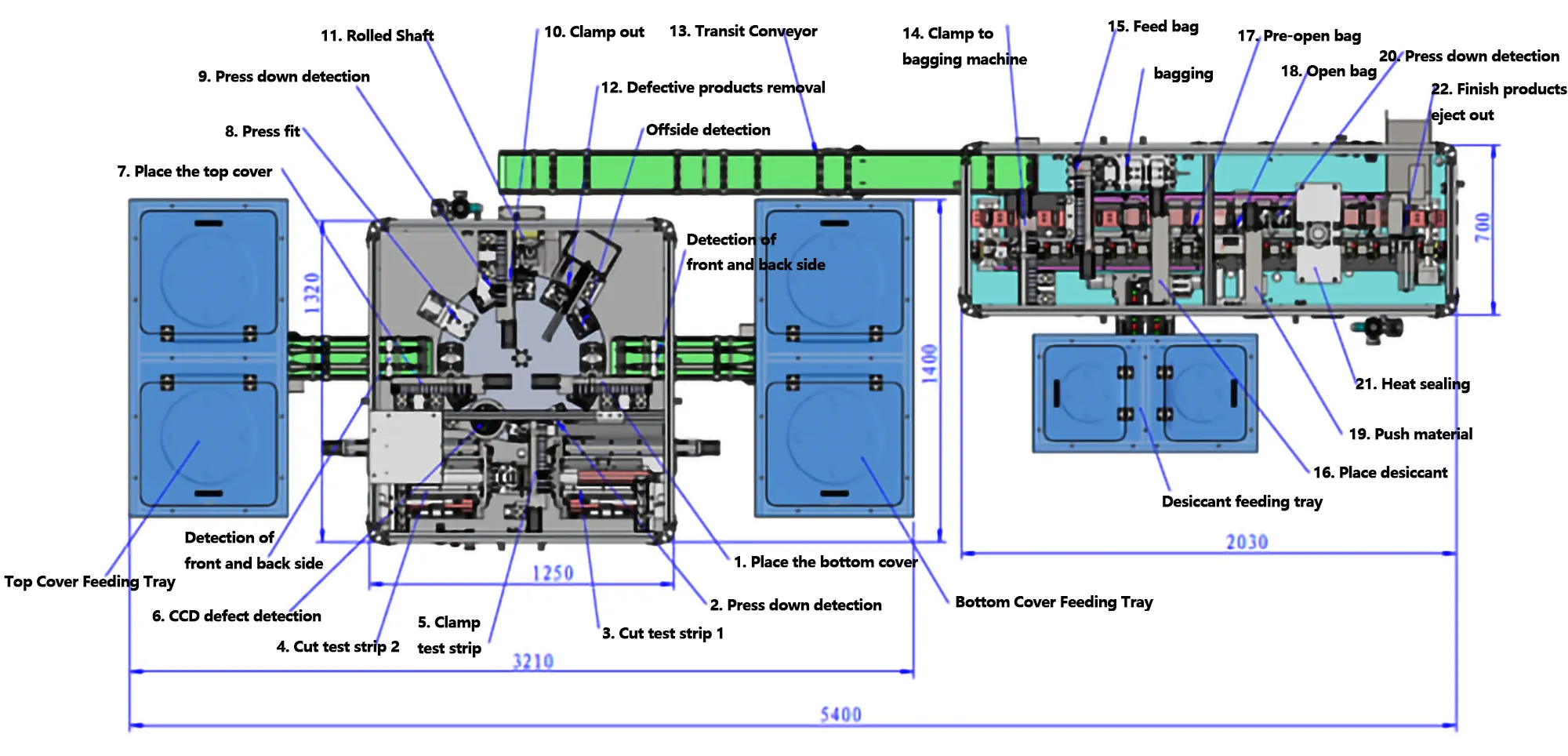 Product Care and Maintenance
Replace the fuse. This device uses an AC power supply, and a fuse should be used to prevent overload.
For the cleaning mechanism, use alcohol to clean the mechanical parts that need to be cleaned; to clean the electrical box, use a commercial neutral cleaning solution.

Things to pay attention to when cleaning:

Do not use cleaning tools that damage the mechanical surface;
Do not use corrosive plastic utensils;
Do not use acid solution.

Regular Maintenance

The design of the test card automatic assembly machine is relatively complicated. Depending on the environment, you need to check the machine periodically in order to maintain the normal operation of the machine. Carry out corresponding daily cleaning and maintenance of the equipment every day, and clean up the shredded paper on the machine in time.

Maintenance

The parts of the inspection card assembly machine are chrome-plated and aluminum parts are oxidized, which has anti-rust function, but during the placement process, you still need to pay attention to anti-rust, spray each stainless steel and iron parts with anti-rust oil, and gently wipe with a soft cloth.
---
Contact us
Email to us for catalogue and price list.